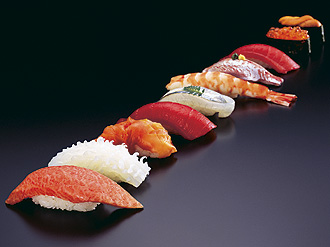 Tsukiji is a very rich place. It is rich in commerce, in culture, and in education. I enjoyed every minute that I spent there.
Videos:
Before we were led to the Tsukiji Fish Market, we watched a video about the place, its parts, and its culture. We saw a lot of informative scenes and got to know the places and people through the video.
Introductions
We were introduced to a lot of types of fishes. I know some of the fishes in the market but there were some that I have never seen before. There were interesting looking ones and aside from the fishes there were other creatures that would be a pity to eat had they not taste heavenly. I was surprised at how busy the place was. There were a lot of fishmongers and eager buyers. We were introduced to some of them and they were friendly enough to drop what they were doing for a minute or two to smile and wave hi! I had no problems understanding what the tour guide is saying and when asking questions since the tour guide speaks English. It is a time-saver that gave me no need to check the dictionary that I brought whenever I hear a new word.
The Streets:
The streets were filled with delectable-looking authentic Japanese seafood. I had a hard time controlling myself from buying anything while our tour guides were telling us something. When I had the chance, I asked our guide's permission to buy something from the stores in the street. The guide asked if there is anyone else who wants to try the food and almost everybody said yes. We were accompanied by our guide to the best store in the street. We had a great time immersing ourselves in the culture and being able to experience an extraordinary gastronomic experience.
Sushi-making:
My favorite part of the tour was the sushi-making lesson! We were able to learn how to make wonderfully yummy sushi by an expert. I love the whole experience and the sushi-making lesson was the cherry on the top. It is a memory that I will carry in my heart forever. Aside from my heart, it will surely be on our dinner table once in a while.
Our tour ended with the best sushi meal that I had in years. It will definitely take me a long time to digest all the culture, the lessons, and the delicious meal that I had in Tsukiji Fish Market.
To know more, just experience our tour "Discover the Heart of Tokyo"
http://www.travelience.com/tours/east-tokyo-one-day-tour/
The article above may contain the content about the old or different tours.